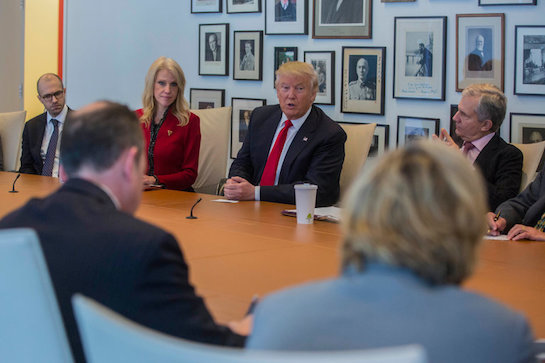 What they need to do is fix the corporate tax law in the USA. It's the largest in the entire world. 
In a recent interview with The New York Times, President-elect Donald Trump said he received phone calls from Apple CEO Tim Cook and Microsoft co-founder Bill Gates after winning the presidential election earlier this month.

Trump told Cook it will be a "real achievement" for him when he gets Apple to make its products in the United States, as opposed to countries like China and Vietnam where many of its current manufacturing partners operate.

I got a call from Tim Cook at Apple, and I said, 'Tim, you know one of the things that will be a real achievement for me is when I get Apple to build a big plant in the United States, or many big plants in the United States, where instead of going to China, and going to Vietnam, and going to the places that you go to, you're making your product right here.'

Cook acknowledged the proposition by nondescriptly saying "I understand that," according to Trump. 

Trump said he is confident Apple will turn to U.S. manufacturing based on the incentives he plans to offer the iPhone maker, including a "very large tax cut" and "substantial regulation cuts" for corporations.

I said: 'I think we'll create the incentives for you, and I think you're going to do it. We're going for a very large tax cut for corporations, which you'll be happy about.' But we're going for big tax cuts, we have to get rid of regulations, regulations are making it impossible. Whether you're liberal or conservative, I mean I could sit down and show you regulations that anybody would agree are ridiculous. It's gotten to be a free-for-all. And companies can't, they can't even start up, they can't expand, they're choking.

A recent report said Apple asked its Taiwanese manufacturing partner Foxconn to study the possibility of moving iPhone production to the United States, although Foxconn chairman Terry Gou is said to be less enthusiastic about the idea due to inevitably higher production costs compared to China.