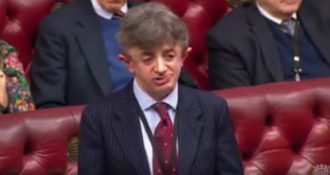 "I can see from the trends in abortion on grounds of disability that the writing is on the wall for people like me. People with congenital disabilities are facing extinction. If we were animals, perhaps we might qualify for protection as an endangered species. But we are only human beings with disabilities, so we do not."   — Lord Kevin Shinkwin
UK peer Lord Kevin Shinkwin recently spoke out against the unjust abortion laws in the UK that allow disabled children to be aborted right up until the moment of their birth.

While the UK's laws on abortion are more restrictive than the laws in the USA (abortions on a healthy child are only legal until the 24th week), there is a loophole that allows parents to abort their disabled children right until the moment of birth. In an effort to close this loophole, Shinkwin has proffered a bill that would see disabled children treated the same as healthy ones and make abortion after 24 weeks illegal for all children.

In an effort to convince his fellow lawmakers, Shinkwin delivered a brilliant and emotional speech that was sure to win over even the most hardened abortion supporters.
Via Onan Coca