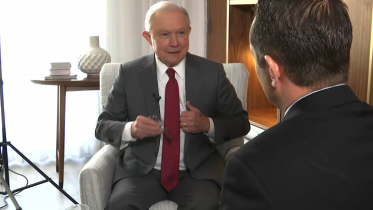 Attorney General Jeff Sessions said the Justice Department will not defend Obamacare, because certain aspects are unconstitutional.

He made the comments in a letter to House Speaker Paul Ryan.

The decision falls in line with a legal challenge from 20 Republican-led states, who argue Obamacare violates the law.

One America News spoke to Sessions about this issue and others, including border security.

Sessions went on to say the Trump administration has zero tolerance for people who illegally enter the country.

The exclusive interview with the nations top cop will be airing later today, only on One America News.
http://www.oann.com/dept-of-justice-argues-parts-of-obamacare-are-unconstitutional-after-mandate-repeal/