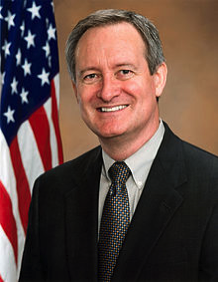 Idaho Sen. Mike Crapo has been named to the Senate Judiciary Committee, a position that could help him shepherd through the nomination and confirmation of Idaho's next federal district judge and push for Idaho to get a third federal judgeship. Crapo didn't give up any of his other committee assignments; he'll also remain on the Banking, Finance, Budget and Indian Affairs Committees, and will continue to serve as the Senate Republicans' chief deputy whip.

"The Constitution is clear in the rights it grants to citizens and the powers it bestows upon government," Crapo said in a statement. "As part of this influential committee, I will work to ensure that the role of government is properly restrained while protecting individual rights and the access to equal justice to which all Americans are entitled."

In addition, Crapo is in line to become chairman of the Banking Committee. The vote on that will come tomorrow.

He and fellow GOP Sen. Jim Risch persuaded the Judiciary Committee to unanimously approve the nomination of Idaho Judge David Nye for the state's vacant federal judgeship in the fall, but the nomination never came up for a vote in the full Senate. That leaves Idaho still down to just one active federal district judge, Judge B. Lynn Winmill, since longtime Judge Edward Lodge took senior status in July of 2015.

Lindsay Nothern, Crapo's spokesman, said, "We're really going to work hard on Nye and work hard on the judges thing. That was a part of the move to the Judiciary Committee." Nothern said Crapo is hoping to move Nye's nomination through "sooner rather than later," and said he'll "absolutely" be in a better position to advocate for Idaho to get a third judgeship. "He might be writing the legislation to do it," Nothern said.
Idaho Sen. Mike Crapo