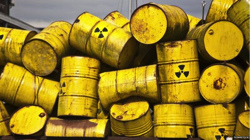 A federal judge has ordered the U.S. Department of Energy to make available to the court documents sought by former Idaho Gov. Cecil Andrus involving nuclear waste shipments to eastern Idaho.
   
U.S. District Court Judge B. Lynn Winmill on Monday ordered the agency to produce the documents within a week so Winmill can determine whether to make them public.
   
Andrus filed a lawsuit in September after Energy Department officials responded to Andrus' Freedom of Information Act request with heavily redacted documents.
   
Andrus wants information on research shipments of spent nuclear fuel to the Idaho National Laboratory that require a waiver to a 1995 agreement.
   
Andrus says the waiver would make the state a nuclear waste repository.
   
Energy Department officials didn't immediately respond to inquiries from The Associated Press on Tuesday.