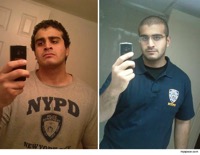 It is now confirmed that in addition to two investigations and two interviews, Florida terror suspect Omar Mateen was also approached by "informants" working for the US Federal Bureau of Investigation (FBI) over a period of 10 months.
Via the NY Daily News (emphasis added): 
Mateen first appeared on authorities' radar in 2013 after the security guard's colleagues alerted the FBI to inflammatory statements he made to colleagues claiming "family connections to Al Qaeda," according to Comey. 

Mateen also told coworkers he had a family member who belonged to Hezbollah, a Shia network that is a bitter enemy of ISIS — the network he pledged allegiance to the night of the carnage, Comey noted.

The FBI's Miami office opened an inquiry into Mateen. 

"He said he hoped that law enforcement would raid his apartment and assault his wife and child so he could martyr himself," Comey said. 

Nevertheless, FBI investigators investigated Mateen, who was born in New York, for 10 months. They introduced him to confidential informants, spied on his communications and followed him. They also interviewed him twice.