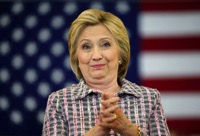 Democratic presidential candidate Hillary Clinton refused to say whether she would comply with an internal State Department investigation into her use of a private email server while secretary of state.

In an interview on CNN on Friday, Clinton did not answer the question when asked multiple times by Wolf Blitzer about the new investigation announced Thursday, which will examine whether current or past employees mishandled classified information.

"Will you cooperate with this new State Department investigation?" Blitzer asked Clinton in a live interview. "Because I know you didn't cooperate with the inspector general of the State Department in his investigation."

"Well, there was a Justice Department investigation going on at the time," Clinton said. "And, of course, I fully cooperated with that."

The State Department paused its internal review while the Justice Department investigation was ongoing.

The Justice Department announced Wednesday it would not bring charges against Clinton for her email practices while secretary. Attorney General Loretta Lynch accepted the recommendation of the FBI not to prosecute Clinton, even though the bureau found that Clinton did send and receive classified information over the unsecure server. FBI Director James Comey said Clinton's security practices were "extremely careless" but her actions did not merit federal prosecution.

Clinton had previously stated she had not sent any classified information in her emails. In the interview with Blitzer, she said she didn't think anyone she corresponded with knowingly sent her classified information.

"I think there are about 300 people in the government — mostly in the State Department — but in other high positions in the government with whom I e-mailed over the course of four years," Clinton said. "They, I believe, did not believe they were sending any material that was classified."

Clinton repeated that her use of the private server was a mistake, calling it a "convenience" at the time that she now realized was "the wrong choice."

Blitzer noted that Comey said Clinton and her aides "should have known" that her emails were not secure.

"Should you have known better?" Blitzer asked Clinton.

The former secretary of state did not answer the question, deflecting back to other government employees:

"I just believe that the material that was being communicated by professionals, many with years of handling sensitive classified material, they did not believe that it was," Clinton said. "I did not have a basis for second-guessing their conclusion, and these were not marked."
Yet the FBI said that some of them were marked. 
Via McClatchy