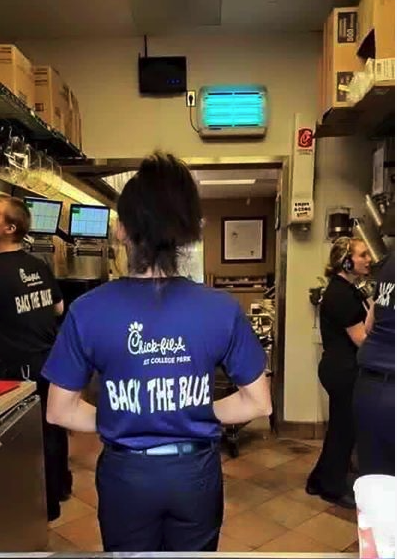 A growing anti-cop sentiment has swept the nation over the last several months, leading to police officers being attacked and killed simply for wearing the badge, retailers selling anti-cop apparel, and celebrities issuing vile statements against our nation's officers.

Even some restaurant chains joined in on the anti-cop rhetoric, as we saw in West Hartford, Connecticut, when a police officer stopped in Dunkin' Donuts to grab a hot cup of coffee before his Saturday morning shift and was denied service for being "a cop."

One restaurant, however, has given our nation's police officers its full support without regard to who approves or what customers they may lose in doing so.

Chick-fil-A employees were recently spotted wearing company shirts that proudly boast "Back the Blue" in an effort to show their unwavering respect for the men and women who bravely protect our communities.

But this isn't the first time we've seen Chick-fil-A take a stand for the nation's "blue" community. Earlier this year, the staunchly Christian company hosted a series of fundraisers to benefit the family of a fallen police officer in Utah.

Utah County Sheriff's Department Sgt. Cory Wride was shot and killed by a 17-year-old suspect, leaving behind a wife and 12-year-old daughter.

When Concerns of Police Survivors announced fundraising efforts for the family of Wride, Chick-fil-A didn't hesitate to partner with the organization, with nearly every Chick-fil-A location in the state participating.