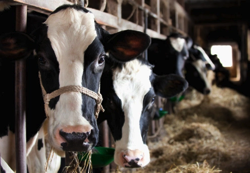 You just cannot make this kind of stuff up. No wonder people are leaving California in droves. 
California's Legislature has approved regulations on cow flatulence and manure – both blamed for releasing greenhouse gases.

The measure was approved shortly before the end of the legislative session Wednesday after its author, Democratic Senator Ricardo Lara of Bell Gardens, agreed to give dairy farms more time to comply.

The legislation seeks to reduce methane emissions associated with manure to 40 percent below their 2013 levels by 2030. Methane is one of several gases known as short-lived climate pollutants that don't persist for long in the atmosphere but have a huge influence on the climate.
So just exactly how are ranchers going to do that? The only way would be to cut back on the number of cows by 40%
Brilliant.