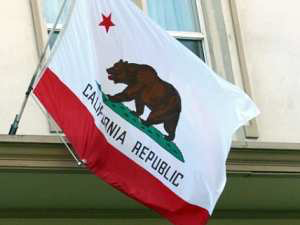 Looks like we'll see how mad Californians actually are about Donald Trump becoming president. The secretary of state has cleared the CalExit petition to collect signatures from voters.

As we noted back in November, CalExit is the hashtag for a movement for the Golden State to secede from the union and become its own country. While the movement existed prior to Trump's election, it got a huge burst of publicity in the outrage and protests in left-leaning cities who were not happy about Hillary Clinton's loss.

The CalExit folks now have 180 days to get more than 500,000 signatures for their initiative to get on the ballot in the fall. It's actually a two-parter. The first part would ask voters to repeal the part of the state constitution declaring that California is an "inseparable" part of the United States and a follower of the United States Constitution. If that initiative passes, it would then place another measure on the ballot in 2019. That initiative would be the one to decide whether Californians actually want to secede from the union.

When this first started getting massive media attention, I was pretty sarcastic about the effort, so let me be very "Yes, I'm a libertarian" clear: Californians should have every right to decide whether they want to remain part of the United States. I was previously a supporter of the right of the citizens of the United Kingdom to decide whether they wanted to remain part of the European Union.

Having said that, though, I have seen little to change my mind that the people who are pointing to CalExit as a possibility have little grasp of either the demographics of the state, nor its actual finances. It is oblivious to the fact that the non-coastal parts of California are similar to the non-coastal parts of the rest of the United States (more conservative folks who voted for Trump). It is oblivious to the reality that the state's financial crisis is due to overspending within California and not because they're sending money to D.C. (Gov. Jerry Brown just announced that the state is sliding back into deficit spending again).

It would be fascinating if CalExit passed, and then the citizens within the state said, "Well, why stop there?" and continued seceding to create their own little quilt of Luxembourg-style countries. After all, citizens within the state, particularly those in Northern California, have been trying to secede from California to create their own states. They feel as left out by a state government dominated by coastal progressives who don't care how their favored policies and regulations affect the economies in less-well-off parts of the state.
Via Scott Shackford