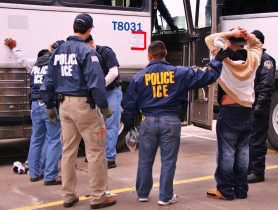 Busloads of illegal immigrants are arriving at a federal prison facility in California's high desert region.

Around 1,000 detainees were transferred from over crowded ICE detention facilities, to a prison complex in Victorville, about 85 miles north east of Los Angeles.

Visitations at the prison have been put on hold for security measures.

Immigrants rights groups say, by placing detainees in prisons, they're being treated like criminals, and may not be receiving the assistance they need.

According to ICE officials a total of five federal prisons will be housing detainees awaiting court hearings.

The move, however, is said to only be temporary.
http://www.oann.com/busloads-of-illegal-immigrants-arrive-at-a-federal-prison-in-victorville-calif/