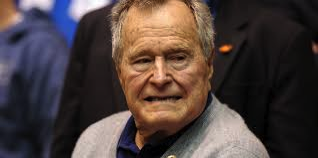 Former President George H.W. Bush said Monday that he will vote for Hillary Clinton in November, according to sources close to the 41st President — an extraordinary rebuke of his own party's nominee.

The sources said this was not the first time Bush had disclosed his intention to vote for Clinton.

The comments came during a receiving line for board members of the bipartisan Points of Light Foundation when Bush was speaking to Kathleen Hartington Kennedy Townsend, Robert F. Kennedy's daughter and the former Maryland lieutenant governor. There were roughly 40 people in the room, and it's not clear how many people heard him, though multiple sources did.

The Republican former president's embrace of the Democratic nominee represents a dramatic new chapter in the complicated three-decade-old relationship between the two most prominent families in American politics.

It's a stunning political move — one that comes just 49 days from the election, and less than a week before Clinton and Donald Trump square off in their first debate.