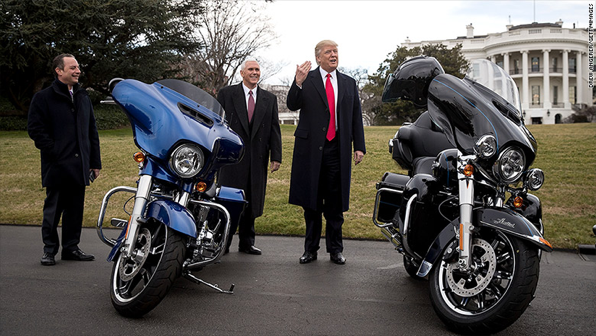 From Bloomberg: "Harley to Shift Production Out of U.S. to Avoid EU's Tariffs"
Harley-Davidson Inc. plans to shift some production of its motorcycles out of the U.S. in response to European Union tariffs, as President Donald Trump's trade war undermines an iconic American manufacturer.

Each motorcycle will cost about $2,200 more after the European Union raised its levies on imported U.S. bikes to 31% from 6% on June 22, the Milwaukee-based manufacturer said Monday in a regulatory filing. This will cost Harley about $90 million to $100 million annually, as the company will absorb rather than pass extra costs on to customers.

While Trump has repeatedly claimed that the U.S. can win trade wars, victims are starting to pile up at home and abroad. Harley's filing follows a profit warning last week from Daimler AG, which cited escalating tensions between the U.S. and China. The motorcycle maker tied its higher costs to a sequence started by Trump, who slapped tariffs on European steel and aluminum, prompting the EU's retaliation.

……

The EU tariffs are only the latest blowback Harley has faced from Trump's trade policies. The company has warned that Trump's tariffs on steel and aluminum will drive up raw materials costs. CEO Matt Levatich also was a supporter of the Trans-Pacific Partnership, which could have lowered barriers in some of the largest markets for motorcycles in the world. Trump withdrew from the long-planned trade pact in January 2017.