They are not publicly saying it's because of Trump, but…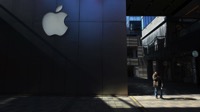 Apple has pulled its funding and support for the Republican National Convention next month because of presumptive GOP presidential nominee Donald Trump, Politico reported on Saturday.

The tech giant reportedly told GOP leaders it was opposed to Trump, who has singled the company out over its unwillingness to create a backdoor into its devices for law enforcement to access. Apple and the Republican National Committee could not be immediately reached by The Hill for comment.

Apple joins a growing list of companies that sponsored the 2012 GOP convention but have decided not to give toward this year's event — though none have said publicly that Trump prompted their decision.
Via The Hill