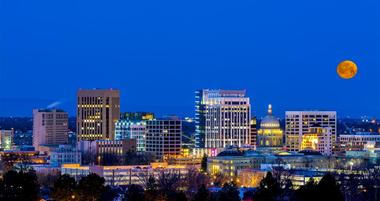 Via Eye on Boise: 
Vogue Magazine today came out with an article on the "10 Hottest Travel Destinations of 2017," and amid such exotic locales as Oman, Madagascar and Sri Lanka, there's a single U.S. destination included: Idaho. "Idaho is having a moment," the magazine says. "The capital, Boise, may not have an Ace Hotel yet, but it's quietly setting itself up to be one of America's most desirable second-tier cities with hip lodging like the Modern Hotel + Bar, indie coffee shops, creative hubs, distilleries, and a serious craft beer scene. And then of course, there's the incredible access to the outdoors, including more than 190 miles of trails to hike, run and bike in the Boise Foothills."

The article goes on to sing the praises of Sun Valley, which it says is "often overlooked for glitzier mountain towns like Telluride, Park City and Jackson Hole," and comments, "think Aspen in the '60s." And it notes the new heli-skiing operation in the Selkirk Mountains of North Idaho.

How did Idaho make this varied list of hot spots? Writes Vogue contributor Jen Murphy, "Last year, savvy travelers flocked to Rio for the Olympics; Cuba, because they could; and America's national parks, to celebrate the 100th birthday of the natural wonders in their own backyards." But in the coming year, the magazine predicts, "Travelers will venture off the beaten path, beyond each country's tried-and-true holiday escapes."
You can read the full report here.