This is the face of liberal fascism.
A mob of self-proclaimed "anti-hate protesters" were filmed violently attacking peaceful anti-Marxist, pro-Trump rally-goers at Berkeley with fists, sticks and urine.

Right-wingers had organized a "No To Marxism in America" rally at the Martin Luther King Civic Center Park for Sunday. Giant hordes of violent antifa showed up and proceeded to beat Trump supporters and anti-Marxists of all backgrounds while police stood down.
There was a video uploaded to YouTube of an unarmed man being assaulted and having urine thrown on him by Antifa. But Google pulled the video. Here it is on Vimeo:
This video shows a father and son being beaten together:
Clip is from live chopper feed by @kcranews in #Berkeley. No cops seen, this is #Antifa. https://t.co/vQHUculNTX https://t.co/AJvowKzbev
Female reporter Leigh Martinez of KTVU Fox 2 and her photographer were also attacked:
No Description
No Description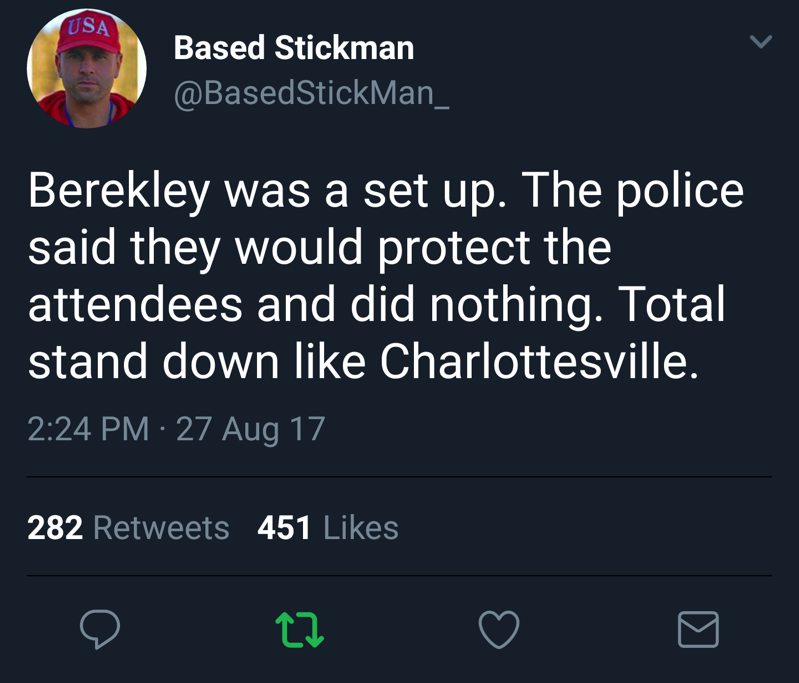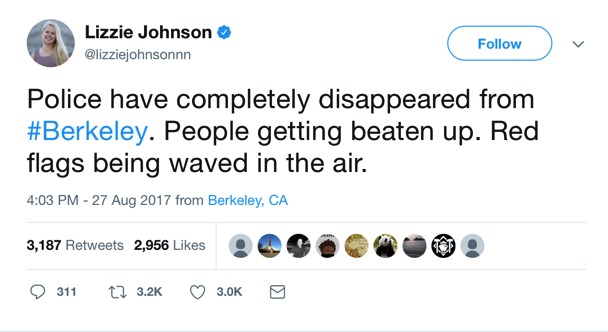 See if Berkeley's mayor has any grasp on reality.
New statement from #Berkeley mayor @JesseArreguin on #berkeleyprotests — 13 arrests and 2 people taken to hospital
Take his camera, take his phone," they are shouting at a journalist. #berkeley https://t.co/hvsQ5eXalE
The #Berkeley police have stood down. A sea of black masks as far as I can see. This is what WAS NOT supposed to happen.
From breaking news and entertainment to sports and politics, get the full story with all the live commentary.
Don't take pictures." Antifa individuals shout out to people yelling at those pointing their cameras. #BerkeleyProtest #BerkRally https://t.co/BzdxbFE6BJ
Chief Andrew Greenwood of @berkeleypolice just said they need to provide space for ANTIFA. This is an approval of their violence. #Berkeley https://t.co/qvAVHjgBJe