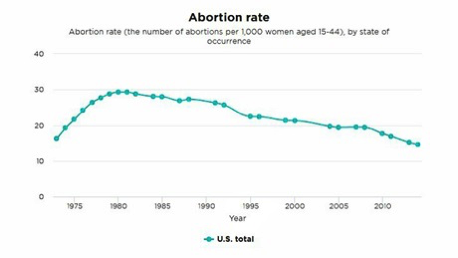 Less than 1 million pregnancies terminated for first time since 1975.
The abortion rate in the United States declined to an all-time low, while the number of lethal procedures dropped below a million for the first time since 1975, according to a new report.

The Guttmacher Institute reported Tuesday (Jan. 17) the rate fell to 14.6 abortions per 1,000 women 15 to 44 years old in 2014, which is a decline of 14 percent since its most recent survey in 2011.

In its census of all known abortion providers in the country, Guttmacher found abortions totaled 958,700 in 2013 and 926,190 in 2014.

The abortion rate reached its zenith at 29.3 in 1980 and 1981, and the total number of abortions peaked at more than 1.6 million in 1990, according to Guttmacher.

Pro-life advocates welcomed the report, and pointed to the work of pro-life citizens and legislators as a reason for the dramatic decline in abortions and their rate.

"The falling abortion number is due to the ceaseless advocacy and ministry of the pro-life community in neighborhoods all around this country," said Russell Moore, president of the Southern Baptist Ethics & Religious Liberty Commission (ERLC). "The pro-life movement advances by calling out to consciences with the truth of what unborn human life is and matching that call with real ministry to women in crisis.

"While a lower rate is undoubtedly good news, the violent taking of the life of even one unborn child ought to cause us to weep and redouble our efforts to protect every human life and contend against the predatory abortion industry," Moore told Baptist Press in written comments.

Americans United for Life (AUL), the country's leader in helping state legislators pass pro-life laws, cited such policies, as well as technology, in explaining the trend.
Via CT