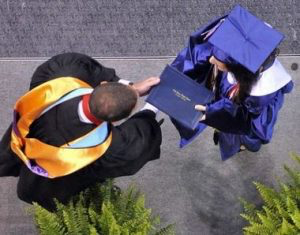 Gotta look good to get more tax money. 
Alabama's graduation rate – lauded as third best in the nation a few months ago – is inflated, the Alabama State Department of Education has announced.

In October, the White House released graduation rate numbers showing Alabama with the third-highest graduation rates – 89.3 percent – in the country, reports Leada Gore on AL.com. Only Iowa and New Jersey did better.

"The numbers reflected a graduation rate increase of 17 percent from 2011 to 2015, more than quadrupling the national average of 4.2 percent," writes Gore.

At the time, the state Department of Education said the improvement was due to local schools keeping students engaged "through a large variety of challenging and innovative academic and extracurricular programs. Students who are engaged, feel cared for and connected, will leave our schools successfully prepared for college and career, ready for the real world."

But the huge increase trigger a review by the U.S. Department of Education's Office of Inspector General.

"The graduation rate was misstated," Alabama Superintendent of Education Michael Sentance now admits.
Via Joanne Jacobs