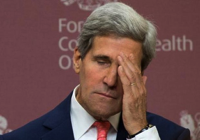 "Secretary of State John Kerry said in Vienna on Friday that air conditioners and refrigerators are as big of a threat to life as the threat of terrorism posed by groups like the Islamic State," says this article.

Kerry wants to phase out hydrofluorocarbons (HFCs) from basic household and commercial appliances like air conditioners, refrigerators, and inhalers.

EPA Administrator Gina McCarthy is one of the U.S.'s lead negotiators in the discussions in Vienna, says The Washington Examiner. "She said Thursday that one of her goals is to move the HFC agreement into force by the end of the year."

"The EPA's rules, together with the negotiations in Vienna, are part of the president's climate agenda for his final year in office."

"This is one of the reasons Trump is getting so much support," says legalinsurrection.com.
Via Fox News