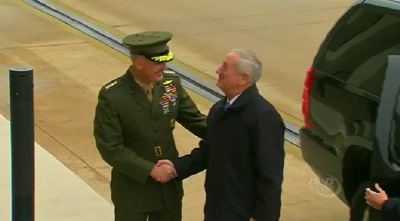 On Trump's first weekend, the US conducted 31 airstrikes against ISIS in Iraq and Syria on Saturday.
On Sunday, the US ordered 42 airstrikes.
U.S. and coalition military forces continued to attack Islamic State of Iraq and the Levant terrorists in Syria and Iraq yesterday, Combined Joint Task Force Operation Inherent Resolve officials reported today.

Officials reported details of yesterday's strikes, noting that assessments of results are based on initial reports.
And
Secretary of Defense James Mattis started off his first weekend at work with a resounding bang, complete with reports of over 73 successful coalition strikes against ISIS targets in Syria and Iraq on Saturday and Sunday.

Entering the Pentagon with a grin on his face over the weekend, Mattis was greeted with news from both fronts of the war against ISIS.

DoD reports indicate that a slew of attacks were carried out against ISIS targets over the weekend, with 31 strikes on Saturday and 42 strikes on Sunday, collectively carried out in Syria and Iraq.

On the Syrian front, coalition units took out ISIS tactical units, destroying artillery, fighting positions, IED factories, oil facilities, tanks, a UAV tower and more. Sunday's attack near Raqqa wiped out four artillery units, including a decoy.

In Iraq, the strikes took out 10 boats, several tankers, construction equipment, a menagerie of tactical vehicles, a car-bomb factory, one tank and a command and control node, as well as a variety of other targets.