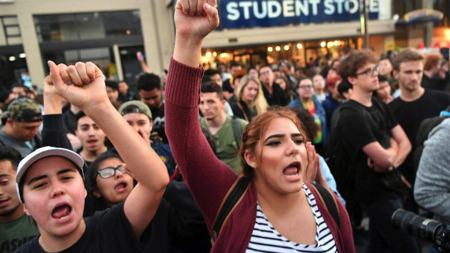 What do they teach in Civics these days? Oh, wait. They discontinued Civics back in the 1970s.
The University of California spent $600,000 on security to enable a conservative commentator, Ben Shapiro, to speak on campus.

Thirty-nine percent of college students believe the First Amendment doesn't protect hate speech and another 16 percent aren't sure, reports researcher John Villasenor, who conducted anationwide survey.

Does the First Amendment protect "hate speech"?

Political Affiliation
Type of College
Gender
All
Dem
Rep
Ind
Public
Private
Female
Male
Yes
39
39
44
40
38
43
31
51
No
44
41
39
44
44
44
49
38
Don't know
16
15
17
17
17
13
21
11

Fifty-one percent of students — 62 percent of Democrats, 39 percent of Republicans — said it was OK for a student group to drown out a speaker "by loudly and repeatedly shouting," if "the speaker is known for making offensive and hurtful statements."

Nineteen percent of students — 30 percent of males, 10 percent of females — said it wasacceptable to "use violence to prevent the speaker from speaking."

I was astounded that students believe — 62 to 38 percent — that theFirst Amendment requiresthat campus events present counterpoints to offensive views.

What do they teach in civics classes these days?
Via Joanne Jacobs