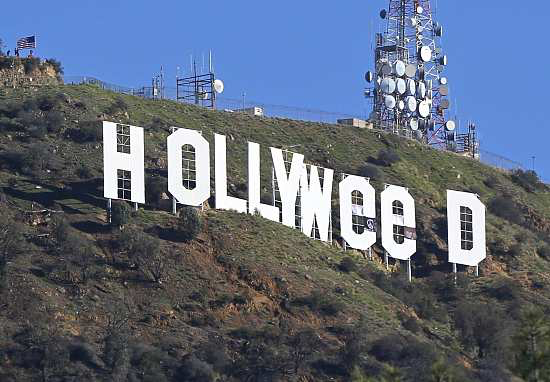 The iconic hillside sign overlooking Southern California's film-and-television hub was defaced overnight in honor of marijuana.

Residents awoke on Sunday to find "Hollyweed" staring down at them in four-story, white letters from Los Angeles' Mount Lee, where a version of the picture-ready "Hollywood" sign was first erected in 1923.

City surveillance cameras captured footage of someone dressed in black about 3 a.m. whom police believe was behind the conversion, Sgt. Robert Payan of the Los Angeles Police Department said in a phone interview.  

Material similar to a tarp was placed over the two Os to make them appear as Es, and park rangers were assessing how to remove them, Payan said.

There were no suspects, but the person if caught could be charged with misdemeanor trespassing, he said.

A ballot measure to make recreational marijuana legal for adults was easily approved by California voters on Nov. 8, opening the most populous U.S. state to the burgeoning commercial cannabis market, although the drug remains illegal under U.S. federal law.

The famed vista with the Hollywood sign was nearly spoiled by development in 2010 until a conservation group, with donations from Playboy magazine founder Hugh Hefner and others, purchased adjacent land to save the view.