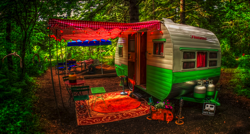 Good thing that gov't is here to protect us from doing what we want on our own property. 
Note: it's never our "own" property. You cannot do whatever you want with it without gov't permission. 
Costilla County, CO — Across the U.S., local zoning officials are making it increasingly difficult for people to go off the grid, in some instances threatening people with jail time for collecting rainwater or not hooking into local utilities.

As zoning laws have increasingly targeted the off-grid lifestyle, many have moved to the Southwestern U.S. as an escape from overzealous zoning officials.

In Costilla County, Colorado, there has been a major influx of off-grid residents to the San Luis Valley. The combination of lax zoning regulations, cheap property, and an already thriving community of self-reliant off-grid homesteaders has led to many new residents.

The off-grid lifestyle, enjoyed by an estimated 800 people, is now being threatened as county officials have recently made moves to essentially regulate and license the lifestyle into oblivion.

Tensions boiled over during a county commissioners' meeting in San Louis, Colorado, devolving into a shouting match between homesteaders and police. One of the major points of contention is the county's attempt to ban camping on your own property, in an effort to force the off-grid homesteaders back onto the grid.

"We are residents who have come to live off the grid. It's all our land." … "These are harsh economic times. We have nowhere to go," twenty-year resident Paul Skinner said.

"We've been regulated out of life," homesteader Robin Rutan told Colorado Public Radio. "I came here because I couldn't live by the codes [in other regions]."

The county, which requires residents to have a camping permit to live in an RV, "small house" or other camp style home, has started to simply refuse the renewal of these permits.

This is obviously a major problem for homesteaders, who often live in such accommodations while building their permanent residents.

"They started enforcing the changes before they were actually made," resident Chloe Everhart said.