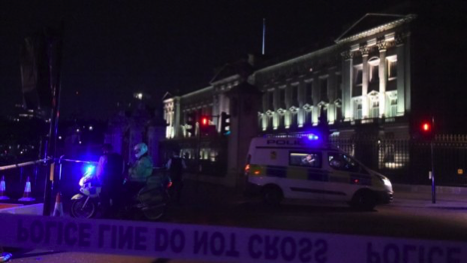 From the BBC:
A man arrested outside Buckingham Palace on Friday night was brandishing a 4ft sword as he repeatedly shouted "Allahu Akbar", police say.

Dean Haydon, head of counter-terrorism at Scotland Yard, said the man drove at a police vehicle before stopping and being confronted by three officers.

CS gas was used to "quickly" restrain the 26-year-old, from the Luton area, who is now in custody, Cdr Haydon said.

The three unarmed Westminster police officers received minor injuries.

Two of them were taken to hospital after receiving cuts to their hands and forearms.

Prime Minister Theresa May tweeted to praise the officers for acting "quickly and bravely", and Mayor of London Sadiq Khan thanked the officers for "ensuring that not a single member of the public was injured".

Counter-terror police are investigating after the man was arrested on suspicion of grievous bodily harm and assault, and under the Terrorism Act.

No members of the Royal Family were in Buckingham Palace, which is the Queen's official London residence, at the time.

The incident happened outside the Mall roundabout near Spur Road – which runs along the corner of the palace grounds – at about 20:35 BST on Friday, police said.